Most advertisers looking to launch their campaigns typically refer to the industry-standard ad sizes set by the Interactive Advertising Bureau (IAB). This makes things easier for those looking to buy or sell ads, as a standard set of sizes ensures a strong supply and demand chain. Advertisers would know which banner sizes have inventory readily available and publishers are assured of demand ready to serve on their site's inventory.
To help you maximize your site's ad revenue for 2023, we've listed some of the best performing banner sizes that are a must-have for publishers:
Desktop Ad Sizes



Large Rectangle – 336×280
Medium Rectangle – 300×250
Leaderboard – 728×90
Half Page – 300×600
LargeLeaderboard –970×90
Wide Skyscraper– 160×600
Skyscraper – 120×600
Billboard – 970×250
Portrait – 300×1050
Mobile Ad Sizes
Rectangle – 300×250
Mobile Leaderboard – 320×50
Large Mobile – 320×100
Square – 250×250
Small Square – 200×200

Banner sizes that bring in the dollars:
300 X 250 Medium Rectangle
The OG medium rectangle (300X250) ad size is among the best performing ad sizes. It's best to put this above the fold for high CPMs. Adding a medium rectangle banner with a leaderboard ad is extra revenue, so leverage this ad size lucratively.
Besides the medium rectangle, the large rectangle (336X280) is also a popular ad format because this banner ad size is like the medium rectangle ad size, but allows for more content.
728 X 90 Leaderboard
728 X  90 leaderboard ads are easy to implement and are high in demand in the publishers' marketplace. It also comes in the IAB standard units.
Leaderboards are the first thing to appear on top when a user loads a website, that's why publishers need to leverage leaderboard ads and place them on the top, bottom, and main content for revenue results.
160 X 600 Wide Skyscraper
These ad sizes became the substitute for content-space eating 120 X 600 conventional skyscrapers and have been popular ever since. Wide Skyscrapers are placed on the side of the page and get improved ad viewability even if the user scrolls down the page.
320 X 50 Mobile Leaderboard
The 320 X 50 Mobile leaderboard ads deliver optimum user experience & monetize mobile websites effectively. Despite being petite mobile banner ads, mobile leaderboard ad sizes are still relevant. They are listed as anchor ads on Google AdSense as they stick at the bottom of the webpage and are in view as the user scrolls.
Deciding Where To Place Your Ads
While you have the freedom to place banners anywhere as long as your site layout allows, note that certain sizes perform better in specific locations and are more visually pleasing to your visitors. For example, leaderboards are often placed at the top of web pages as they are easy to see and compact. Rectangle ad sizes work great inside text content, as they are convenient to display and can catch a user's attention as they're going through an article.
Before deciding where to place a unit, consider the site's layout, content and how it would appear from the perspective of your users. The last thing you'd want is to negatively impact the user experience of your visitors because of badly placed ads on your pages.
Conclusion
When it comes to monetizing your domain, determining what banner sizes to use is one of the most important things to consider. Banner sizes can greatly impact your site's revenue potential, especially since some banner sizes have higher demand than others.
Ready to boost your ad revenue by 360% with the best programmatic ad-tech company. Let's get in touch! 
FAQ
What are the standard desktop ad sizes?
The standard desktop ad sizes are: 728x90, 300x250, 160x600, and 300x600.
What are the most common mobile ad sizes?
The most common mobile ad sizes are: 320x50 and 300x250.
How do desktop and mobile ad sizes differ?
Desktop and mobile ad sizes differ due to the differences in screen size and aspect ratio. Desktop ads are usually larger and have more space for visual elements, while mobile ads need to be optimized for smaller screens and touch-based navigation.
Can I run the same ad size on both desktop and mobile devices?
It's possible to run the same ad size on both desktop and mobile devices, but it's not recommended as the ad may not display optimally on either platform.
Is it important to use the right ad size for better performance?
Yes, it's crucial to use the right ad size to ensure the ad is displayed properly and its message is conveyed effectively. Using the right size also helps to improve the performance of the ad, as it can lead to higher click-through rates and engagement.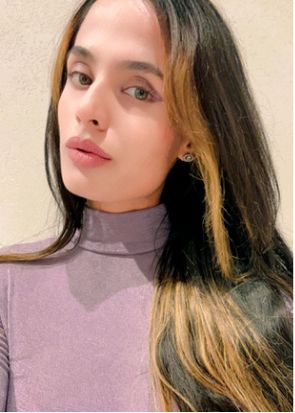 Meet Aleesha Jacob, the #1 B2B AdTech Content and SEO Marketer with over 7 years of experience in crafting data-driven content that fuels conversions for SAAS businesses. Having worked with SAAS companies and clients like BMW and Heineken, Aleesha brings a wealth of expertise. With her unmatched skills in creating compelling content, she helps businesses of all sizes drive more leads & maximize revenue.