This post was most recently updated on May 18th, 2023
Believe it or not, Interstitial ads have emerged as the most popular ad format for publishers around the world. From blogs to Snapchat ads, these ad formats are hard to miss! Almost 70% of publishers in the food and gaming niche use a mix of interstitials and rewarded ads for mobile app monetization to maximize their ad revenue. Stay tuned to discover your future interstitial ad network partner by going through this post.
The following are the best mobile ad networks for serving interstitial ads in 2023:
1. AdMob or Google Ads for Interstitial Ads
If you're not new to programmatic advertising, you may know a little about Google AdMob. Its advanced app monetization technology was made specifically for app developers promising maximum ad revenue, comprehensive reporting & metrics tools. Along with interstitial ad formats, AdMob supports video ads, native ads, banner, and rewarded ads as well.
Their tools are easy to use to optimize interstitial ads while enhancing user experience at the same time.
How will you benefit from this interstitial ad network?
AdMob maximizes impression value for more ad revenue.
Seamless interstitial ad formats integration
Accurate analysis from Google Analytics Firebase with Swift reporting.
2. InMobi for Interstitial Ads
InMobi is among the biggest mobile advertising platforms exceeding over 1.5 billion unique devices globally. Before revamping into a mobile ad network it was a text message-based search service. A range of ad formats is supported by InMobi, including interstitial ads, banners, rewarded videos, and native ads.
They have a CPM-based revenue model, but they do not reveal how much money they give to their publishers. Its interstitial ad technology platform optimizes ads depending on the app or site's niche to retain and grow audience engagement.
How will you benefit from this interstitial ad network?
CPM-based revenue sharing model with CPM rates ranging from $2 to $7 depending on whether it's android or iOS operating system.
Robust interstitial ad technology enables impactful transitioning of ads that are likely to have a high conversion rate.
3. Start.io
Start.io combines First-Party Data with its 500K integrated apps to help publishers analyze user behavior without third-party cookies. Their database has over a billion mobile users worldwide.
Benefits:
In-depth audience analysis for launching campaigns that will convert.
A diverse range of ad formats from interstitial, app wall, entry/exit ads to native ads for app developers to increase their ad dollars.
100% fill rate guarantee for publishers' mobile inventory.
Specializes in the monetization of messaging and networking apps.
4. Meta Audience Network for Interstitial Ads
Meta Audience Network (MAN) was created by Facebook to serve display ads on the meta app and web. It also serves ads to other apps through the audience network feature. Despite being a newer ad network, they support interstitial ad formats, banners, and native ads.
How will you benefit from Meta's Interstitial Ad Network?
App developers & publishers can utilize interstitial ads in the playable ad format or rewarded video ad format
Huge range of ad formats to choose from.
MAN's interstitial ads are meticulously designed to provide users with a "low latency experience."
5. ExoClick for Interstitial Ads
ExoClick is an innovative ad network for publishers who want to serve interstitial ads with real-time analytics & SAAS technology, referral commissions, timely payments, and 24/7 support. They have over 12 billion geo-targeted ads served regularly to 70K publishers around the world.
How will you benefit from ExoClick's Interstitial Ad Network?
Supports interstitial ad formats, in-stream video, in-video, video slider, pop-unders, video banners, & push notifications.
Offers a 100% fill rate with interstitial ad targeting
Offers over 20+ ad formats with 24/7 customer support and an optimized target audience network making it a sustainable interstitial ad network.
6. AdXXX for Interstitial Ads
Having been in the online advertising business for more than ten years, AdXXX specializes in both interstitial ads and native ads. Both advertisers and publishers have benefited from their real-time bidding system. 960,000,000 ads are viewed daily by AdXXX, with extensive coverage in 180 countries and 500 million clicks every month.
Benefits:
Supports multiple payment methods (PayPal, Wire, WebMoney).
7-day payment plan with $5000 weekly payouts.
Instant setup process 
Supports all device types
100% fill rate of ad inventory with enhanced eCPMs.
7. MediaNet for Interstitial Ads (5th biggest AdTech company)
MediaNet is a high-paying interstitial ad network that works with the biggest publishers like Forbes, USA Today & CNN. A list of requirements must be met by publishers who wish to join the program, and they work only with publishers who have high-quality content. Some of the requirements include the majority of traffic coming from tier 1 countries, high-quality original content, quality user experience, & over 500K site visitors. The main benefits they promise are double the ad revenue and a dedicated team of yield optimization experts is at your disposal.
8. AppLovin
AppLovin is a popular interstitial ad network that specializes in user acquisition and retention using advanced analytics. AppLovin was founded in 2011 and provides monetization support for mobile platforms such as Android, iOS, Amazon, and more. You can calculate Ad Revenue either through the CPA or CPC models with low payout thresholds. In addition to interstitial ad formats, AppLovin also supports banners, native ads, and video ads.
9. AppNext
AppNext is a mobile app discovery platform developed in India that serves the Asian market primarily, allowing users to discover apps based on their daily searches & interests. AppNext serves more than 35 billion impressions to more than 60K ad developers monthly. With AppNext, you can use interstitials, Appnext SDK, APIs, & mobile web advertising widgets. Payouts are processed via PayPal or bank transfers.
10. Fyber
As one of the largest independent ad networks, Fyber works with publishers, developers, media buyers, and DSPs. Programmatic ads from Fyber comply with IAB standards and include interstitials, rich media ads, rewarded ads & paid campaigns.
Wrap Up
This ad format is deployed more often than pop-up ads or banner ads due to its appealing impact on viewers! It's nice to have interstitial ads, as long as they aren't messing up with the UX. If you are looking to generate the highest revenue from your website, you can leverage the power of the interstitial ad networks mentioned above.
Interstitial ads can be a lucrative revenue source if you have the right adtech partner to help you implement them. MonetizeMore is an industry-standard Google Certified Publisher Partner ready to help you 5X your ad revenue! Lets deploy your interstitial ads. Don't miss out!
Frequently Asked Questions
Why are Interstitial ads beneficial?
Interstitial ads work well for engagement retention and conversions due to their high visibility. These ads have high click through rates as they grab a lot of attention persuading the viewer to learn more about the ad. Since it takes over the entire mobile screen, these ads take user awareness to another level.
What is recommended before working with an interstitial ad network?
The payment plan, various ad formats, revenue model, and optimizing tools available to publishers should be taken into consideration before collaborating with interstitial ad networks.
Which is more effective: interstitial ads or banner ads?
Banner ads go out of sight quick so they can't win over interstitial ads which is able to capture the user's attention and make him/her convert. Many publishers & app developers deploy interstitial ads in order to improve their audience retention and ad revenue.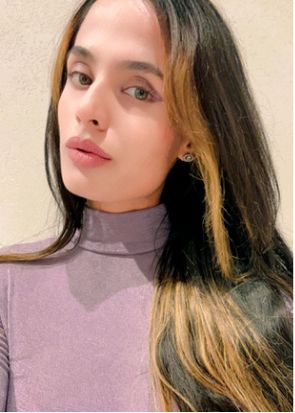 Meet Aleesha Jacob, the #1 B2B AdTech Content and SEO Marketer with over 7 years of experience in crafting data-driven content that fuels conversions for SAAS businesses. Having worked with SAAS companies and clients like BMW and Heineken, Aleesha brings a wealth of expertise. With her unmatched skills in creating compelling content, she helps businesses of all sizes drive more leads & maximize revenue.